Welcome To My Homepage
Create your Site.
Hello. Thank you for taking the time to visit this site. I am William's Dad. Although you may find some of this site to be very heartbreaking, please don't look at it like that. I am posting this site to share my Son with you. He was a wonderful child who grew into an even more wonderful young man. And He is everything to me. For the past twenty + years, he has been my breath, my heartbeat, my reason for being. I don't know this world without Him.
Since you are already here, please take a moment to look around and enjoy His life with me. I did nothing but brag on Him constantly......so why should that change now.
And please, please return often, as I will be constantly adding new and different things. My Son was a very gifted young man........He played and wrote music, He wrote poetry, short stories, and was even in the beginnings of a novel - which He shared much of with me. "Dad, I left my computer on so you can read this chapter I just finished".......and he would go to his room, pick up His guitar or most often, His drawing pads, to return a little later and we would talk about it. How I miss those talks......................how I miss just talking to Him. We talked constantly, and about everything. He's my son, my buddy, my pal, my confidant, my hero, and I was the same to Him.
Oh yeah, I did mention drawing/art pads above. The boy can draw !! His talent in all these areas just increased by the day.
So, again I thank you for stopping by and listening to me brag. Please stop back for more updates, including His stories, poems, lyrics, and artwork.
My blessings to you for taking your time. I hope you don't feel you wasted it.
Until I post more........Proud Dad
Listing Site Updates
Under one of these subheadings, it's a good idea to list recent updates to my site so that visitors, especially return visitors, can check out the new stuff first. For example, I could list the date and a brief description of the update.

I could also list updated news about my site's topic. For example, if my site were about a particular sport, I could discuss the outcome of a recent competition.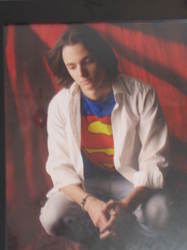 Notifying Visitors of Site Enhancements
Another idea for my home page's text is notifying visitors about the enhancements I put on my site. For example, I want visitors to sign my guestbook or fill out my survey Form E-mailer to answer questions about my site, my business, or my site's topic.
Need some extra help building your site? Here are some topics that may be helpful.
Customizing and Personalizing My Site
I might not want a large amount of text on my home page if I want to guide visitors toward my other pages. Instead of text, I can add photos or interesting links. One of the first things I would want to do is choose a template that reflects what my site is all about. Colors and themes are a great way to reinforce the message and purpose of my site.
Behind the Scenes of My Home Page
Even if I don't put much text on my home page, it's a good idea to include hidden tools that will help me promote my site, so people other than my friends and family actually see it. For example, I could add meta tags, which are hidden codes that allow search engines to find my site. I could also install stats and a counter so I know how many people are visiting. If not many are visiting, submitting my site to search engines will guide more traffic to my site.